Suwit Gym
Muay Thai, training camp Phuket Thailand @ Suwit gym  

Muay Thai: An Art For Everyone
Muay Thai or just Thai boxing is also often referred to as the 'art of 8 limbs'. When you search for more potent martial arts, the first name shown by Google is Muay Thai. Muay Thai is a form of sport in which a person is required to use his whole body to fight, i.e. symphony of kicks, punches, knees and elbows to win a combat.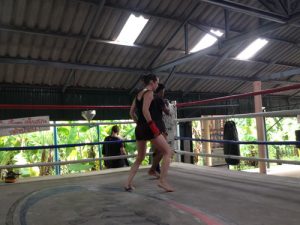 Benefits of Learning Muay Thai at Suwit Gym
There are several reasons as to why one must practice Muay Thai:
It helps you to get a good body shape
While doing Muay Thai, you are required to use your complete body and thus exercise each part of your body. It helps you to build your muscles. So if you are worried about burning that extra fat, you gained last month here is a way to increase your strength and lose weight.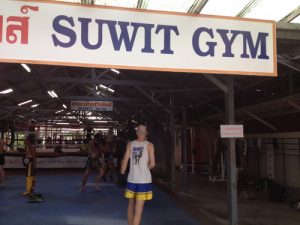 Increases your mental strength and self-discipline at Suwit Muay Thai
Muay Thai sport helps not only to improve your strength and build physique but also develop you mentally and indulges the feeling of self-discipline within yourself. Suwit gym and Muay Thai program are ready for you.
It gives courage and helps you remain calm
Muay Thai gym: Learning Muay Thai art boosts your confidence, and it helps you to be calm in the worst situations. Now, you are ever ready to defend yourself and can stand up to those high school bullies!
Suwit Muay Thai Gym @ Muay Thai Training Camp
Though officially, there is only a single Muay Thai training camp located in Phuket, Thailand, people are learning this sport and opening their Muay Thai training centers around the globe. These camps are providing best facilities to the trainees including excellent nutrition, neat and clean playgrounds, experienced trainers, safety for woman trainees, comfortable accommodation and gyms. It is a compulsion for everyone between the ages 13-16 to learn Muay Thai for free in Thailand.  Our Muay Thai website have Muay Thai camp information for everyone.
Information of Suwit Muay Thai training camp :
– Suwit Gym and basic program :
You will want to be fully focused while you train to the task at hand.
– Suwit Muay Thai with nice teacher :
It's one thing to be regular at the training camp and it's entirely another thing to be focused on what you do there. You could very well lie down and gaze at your cell phone to relax while there.
– Muay Thai training in Thailand and great location :
Phuket Island is an excellent place to spend some quality time between training classes.
– Suwit Gym for perfect body :
Those who have some experience with Muay Thai training on Thailand have probably heard about Suwit gym.
– Muay Thai Training camp with cardio workout :
Martial arts are great for instilling several healthy habits in your child. The first of them is the habit of discipline.
– Suwit Gym for professional fighter : 
There are many famous champions who were born on this island or who spent months in some of the camps found there.
– Suwit Gym for improve health :
Phuket Island also has a history related to Muay Thai.
– Suwit Gym with new class and Muay Thai for holiday 
– Suwit Gym with quality group and Muay Thai for weekend 
-Suwit gym and Muay Thai training with regular package and Muay Thai in little room    
-Suwit gym and Muay Thai training for kids and parents
-Suwit Gym with dream place and Muay Thai magazine   
-Suwit Gym with daily exercise and Muay Thai with quiet village   
-Suwit Gym and general knowledge with Muay Thai in Thailand 
-Suwit Gym with all information and Muay Thai for vacation  
-Suwit center and Muay Thai for excellent people
-Suwit data and Muay Thai with big building   
-Suwit gym with nice team and Muay Thai club
-Suwit gym for exotic destination and Muay Thai with personal coach    
The news of Suwit-Gym by internet :
Suwit Muay Thai camp in Thailand information :
The Muay Thai training program @ Suwit gym for Muay Thai class :
Muay Thai course at Suwit gym is a great program to regain your health and lose weight, and that's why many fitness professionals always recommend this Muay Thai gym. After centuries of Muay Thai training it is known that working in a group has the result that people are optimally motivated and they tend to work much harder. This is why in the more traditional Muay Thai training camp it will be the most senior and more experienced fighter that sets the pace while the rest is expected to keep up. It has been proven that the followers are then motivated to run longer faster and harder and they continue to push each other to strive harder.  Muay Thai business must use  internet technology for marketing. The new construction of Muay Thai gym and restaurant is ready to our Muay Thai student.  If you want more detail of Muay Thai training program, please contact us with online or social media channel. In this year everyone can train at Suwit Muay Thai gym with many Muay Thai programs.  Today Suwit Muay Thai camp open a new beginner program for 2022. 
---
Muay Thai camp in Thailand for everyone : Muay Thai, training camp Phuket Thailand @ www.suwit-gym.com