About us
Suwit Gym
Muay Thai or Thai boxing is a combat sport and martial art focused on all parts of the body. During every strike and kick the body is in motion which means that people who are practicing this sport are activating all of the muscle groups found in the body. We have strikes performed with the arms – hands (fists) and elbows; strikers performed with the legs – knees, lower legs and feet and clinch fighting which strengthens neck muscles and the overall strength of the entire body. Muay Thai is from Thailand .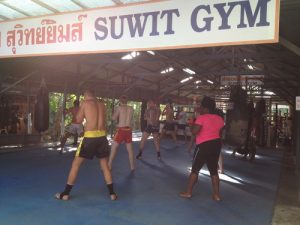 A typical Muay Thai training consists of explosive warm up, stretching, exercises which involve two students and bags, fitness training, sparring for the elderly etc. Some of the equipment that's needed are bandages, gloves and shin pads.
During Muay Thai training, people improve their flexibility and movement ratio which improves balance and space orientation. Students that are already training say that this is an excellent sport because they've learned how to get rid of the stress, build muscle mass and lose weight.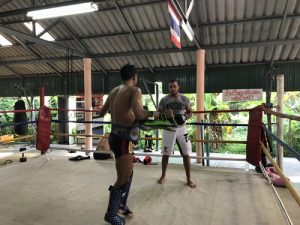 If these facts have triggered your interest, you should know that the best place to start with Muay Thai training is Thailand. Since there are many camps we will focus on one that has proven to provide high-quality training – Suwit Muay Thai training camp.
Suwit camp or gym is located in Phuket Island – one of the most beautiful islands in the world. It has helped hundreds of students from Thailand and foreign countries to experience the advantages of practicing this sport. They are providing classes for more than two decades now which is quite impressive.
Suwit Gym is offering beautiful accommodation too in case you want to be devoted to the training completely. They also have a wide range of equipment and clean facilities that will make your stay there very pleasant. Finally, this is a camp with experienced and professional trainers that are ready to pass their knowledge to the students regardless of their current physical state and goals.
If you decide to travel to Thailand in order to learn more about this amazing sport, you must take Suwit camp into consideration!