Muay Thai – how to get good at it
If you wish to get good at Muay Thai and fighting in general, then there are few things that you will have to do. This article will give you all of the information for this to happen.
The first thing that you will need to do is find a high-quality, reputable Muay Thai training camp. If you can find the right instructors that will know how to handle your personal style, then you will be well on your way to mastering this martial art.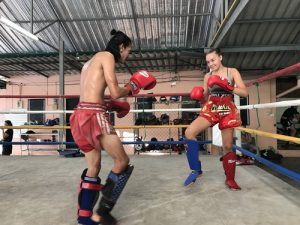 The second thing that you will have to do is come often to training. There are no set rules as to this – but typically you will want to train as often as possible, up to a certain extent. You wouldn't want to damage your body in the process of getting good at Muay Thai, right?
Then, you will want to be fully focused while you train to the task at hand. It's one thing to be regular at the training camp and it's entirely another thing to be focused on what you do there. You could very well lie down and gaze at your cell phone to relax while there. But this is not the road to mastery.
You will want to invest every bit of your being into training Muay Thai. This means hearing the instructions of your instructor at all times while really thinking hard about how best to implement them. And this means giving 100% in sparring session and while drilling various moves.
If you truly wish to transcend your skills and get very good at Muay Thai, then the best thing that you can do is go and compete against other practitioners. This can be a very scary thing to do once you consider the fact that you will need to fight with another trained person. But if you wish to truly get good – then there is no other way. You will need to face your fears and get into the ring and fight.
If you follow the advice from above, then there is no way in which you won't succeed in becoming a Muay Thai master.