A quick way to get into shape
If you want to get into shape fast, then there are many ways in which you can do so. You can take some weight loss pills. You can get on a diet of eating only one apple and one orange every day for three months. You can also use that weight loss belt that everyone's talking about – you know, the belt that you put on your waist and it does the work of exercising for you.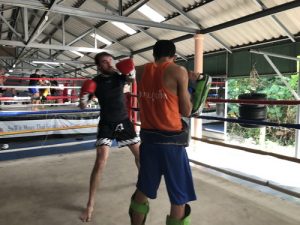 If you haven't noticed by now – the above paragraph is a joke. You are not to take it seriously unless you don't want to experience any results and unless you want to risk ruining your health. Our personal recommendation for you if you wish to get into shape is to start training Muay Thai.
Muay Thai can help you build the body of your dreams. If you're battling the issue of being overweight – then Muay Thai can help you lose weight as well. It will tone up your muscles and make them stronger. You will feel and look better than ever.
But you're not supposed to wait for the result overnight. Oh no… you will have to be very persistent at Muay Thai if you wish to experience any results at all. You can begin to see visible results in a period of three months of vigorous exercise.
However, this doesn't mean that you won't see any results even from the first training session that you will have. Your body will begin to work as it should. And it will flood you with endorphins and dopamine because of the fact that you have done something positive for yourself.
So, you can see that there are many benefits of beginning to train Muay Thai as soon as possible. All you need to do is do away with the excuses that you may have about the validity of training Muay Thai. Perhaps you think that it's not for you. And perhaps it really isn't. But we suggest that you try it out either way. And we believe that you will end up loving it all the same.