Why Women Travel and join a Muay Thai program?
Women who are following the latest fitness trends have probably notice that there is an increased interest among women to travel to Thailand and get involved in Muay Thai training in some of the many camps found there. Phuket Island is especially popular destination most likely because of the various activities that this island can offer besides excellent Muay Thai training classes.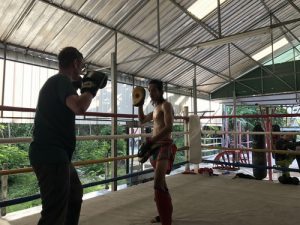 Phuket Island is a beautiful and unique island situated in the Andaman Sea and it is often called the pearl of this sea. This is name that this island truly deserves because of the long pristine beaches, interesting bays, jungles, Buddhist temples, rich markets and various tourist attractions.
Phuket Island also has a history related to Muay Thai. There are many famous champions who were born on this island or who spent months in some of the camps found there. But, why would some woman from abroad decide to take classes in a camp there?
First of all, Phuket Island is an excellent place to spend some quality time between training classes. Since this is a place that is focused on tourists you can expect to find some interesting activities that will keep you busy and satisfied in your free time. This is a relatively big island and you can visit different places with different history and tradition although you will stay on the same island.
If you are worried about your loss weight plan then Phuket Island is here to help you out with its beautiful restaurants where they serve low-calorie meals that are very delicious. Of course, the main help will come from the Muay Thai training sessions because this type of exercise eliminates calories very fast.
Those who have some experience with Muay Thai training on Thailand have probably heard about Suwit gym. This place is visited by dozens of women who want to get in shape every year. Its clean and well-equipped facilities and professional trainers can help any woman reach her fitness goals as fast as possible.
If you want to lose weight, get fit and have fun at the same time, join Suwit Muay Thai training camp in Thailand.